ABOUT NTERWAY PARTNERS
Nterway Partners is an exacutive search firm providing quality services and
tremendous commitment to assure the vision of all the talented in the world.
We secure over 135,000 highly qualified candidates and retain over 200,000 professionals in our database.

WHY NTERWAY

The reason for the foundation of Nterway is to provide quality based recruiting for the long-term benefit...

CEO'S MESSAGE

Established in 2000, Nterway Partners is a leading HR service provider of Korea. We search, assess...

HISTORY

ABOUT 4 DIVISIONS
Nterway Partners as 4 divisions and the consultants in each division
have their own expertise to provide top-notch service for our clients.
MORE

<!-peoplecheck-->

REFERENCE CHECK SERVICE
Nterway Partners help organizations gain an additional level of information on their
applicant,which can lead to a successful employment.
MORE


LOCATION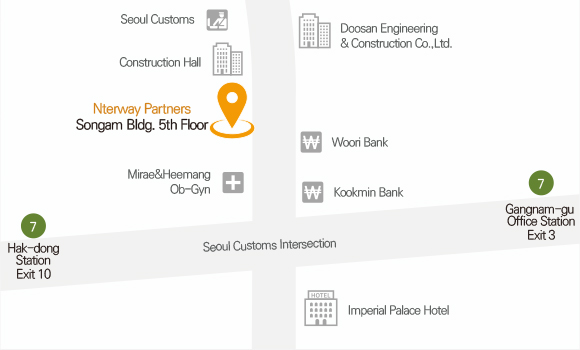 ADDRESS
5th Fl. Songam Bldg. 709 Eonju-ro,
Gangnam-gu, Seoul, Korea, 06053
TEL
+82) 2-6281-5000
Fax. +82) 2-6281-5100
E-MAIL
nterway@nterway.com
System Inquiry: mjpark@nterway.com