OVERVIEW
Nterway Partners

"Provide Quality Service and Tremendous Commitment
to Assure the Vision of all the Talented in the World"

Nterway Partners launched its headhunting business in June 2000 in Korea and its very first U.S. branch office in 2011 in Los Angeles, CA. The company is firmly positioned in Korea and U.S. to enhance and improve not only the domestic human resource market but also the international market.

Today, our professionals focus on various categories of businesses, such as IT, Telecommunications, Semiconductors, Consulting, Finance, Biochemistry, Distribution, Services, Consumer Goods, Manufacturing, etc.

Based on our professional consultants' experience and market expertise, we recommend perfectly matched candidates to provide superior services to our esteemed clients with our "Candidate-Database" that we have more than Three Hundred Thousand positional candidates and talents network.

Nterway values the importance of long-term relationship of our clients not the short-term profit. Our goal is to help to raise the level of competitive power for those who have difficulty managing their needs of human resources.

WHY NTERWAY?
We secure over 135,000 highly qualified candidates in our own database system and retain over 200,000 professionals in our network database. Such rich pool of data allows our consultants to find the most qualified candidataes for our clients.

In order to be a global exacutive search firm, we established a partnership with Clasford International, a global collaboration of exacutive search firms. We have also developed our virtual administrative system to ensure efficient service process.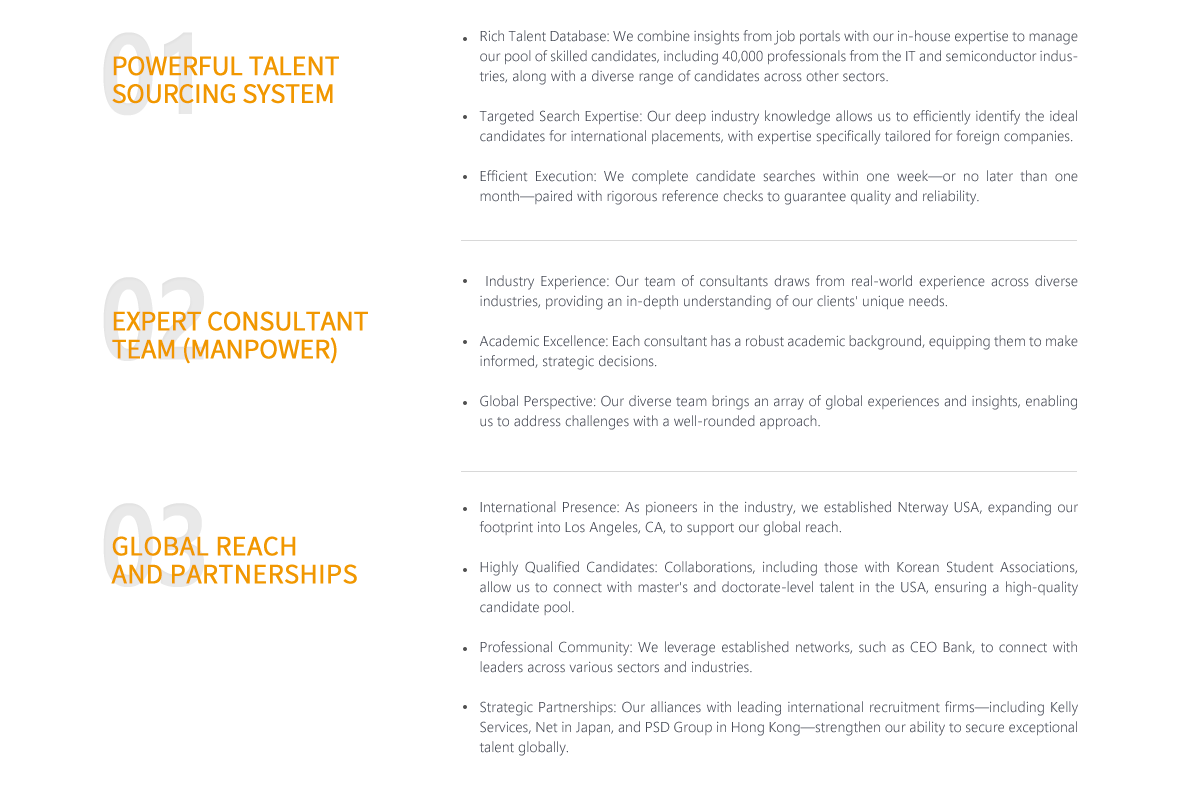 CEO'S MESSAGE
"The Reason for the Foundation of Nterway is to Provide Quality Based Recruiting for the Long-Term Benefit of Our Clients."

Dear clients,

It is no exaggeration to say that in today's fast-changing and competitive environment, the success or failure of a company depends on "people." However, many companies are having problems with "people management," which cause them to experience painful failures.

Therefore, it is our job to make sure that the members of our client companies get the best results in their respective fields and improve their competitive edge.

We will do our best to build a true partnership and become your great partner.

Thank you.

CONTACT US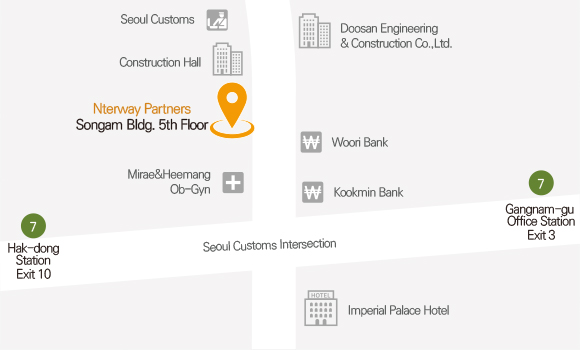 ADDRESS
5th Fl. Songam Bldg. 709 Eonju-ro,
Gangnam-gu, Seoul, Korea, 06053
TEL
Tel. +82) 2-6281-5000
Fax. +82) 2-6281-5100
E-MAIL
nterway@nterway.com
System Inquiry: mjpark@nterway.com